I depart from my usual posting content to share a story with you. You see, I try to keep this place fun, lighthearted, interesting. But above all, I like to keep it honest. This is a post where I share some trials in the world of parenting.
It is nothing new when I say that kids can be some of the biggest assholes on the planet. Some kids don't know better, or they were never shown how to be loving and kind. Some come from horrible home situations and in turn act out or take it out on other children. It's almost of right of passage to encounter one of these kids in your lifetime.
Ever since Reza decided to shave the side of her head, she has told us about situations where kids (mostly older boys) make comments to her about it. That she "looks like a boy".  We encourage her to defend herself in whatever way she seems fit and have stressed that we will never be mad at her if she gets in situations or altercations out of self defense. I will never punish her for standing up for herself or others.
For a while now, we have been noticing changes in her demeanor. Truth be told it happens quite often. As she grows up she continues to navigate down uncharted waters, with it come storms or smooth sails. These changes are usually par for the course, typical growing pains. We usually just say it's "just the age" and when that happens we adjust how we handle it accordingly. But this was different.
All of a sudden our spunky girl was bottled up, withdrawn, moody, snappy, sassy. We are very in tune and when she isn't herself it is pretty obvious something is going on. So I decided to ask her what troubled her. My first instinct was that she was getting bullied in school. Several weeks ago I was cleaning her bedroom, reorganizing her many books. I picked up one of her sketchbooks and this is the page it was opened up to…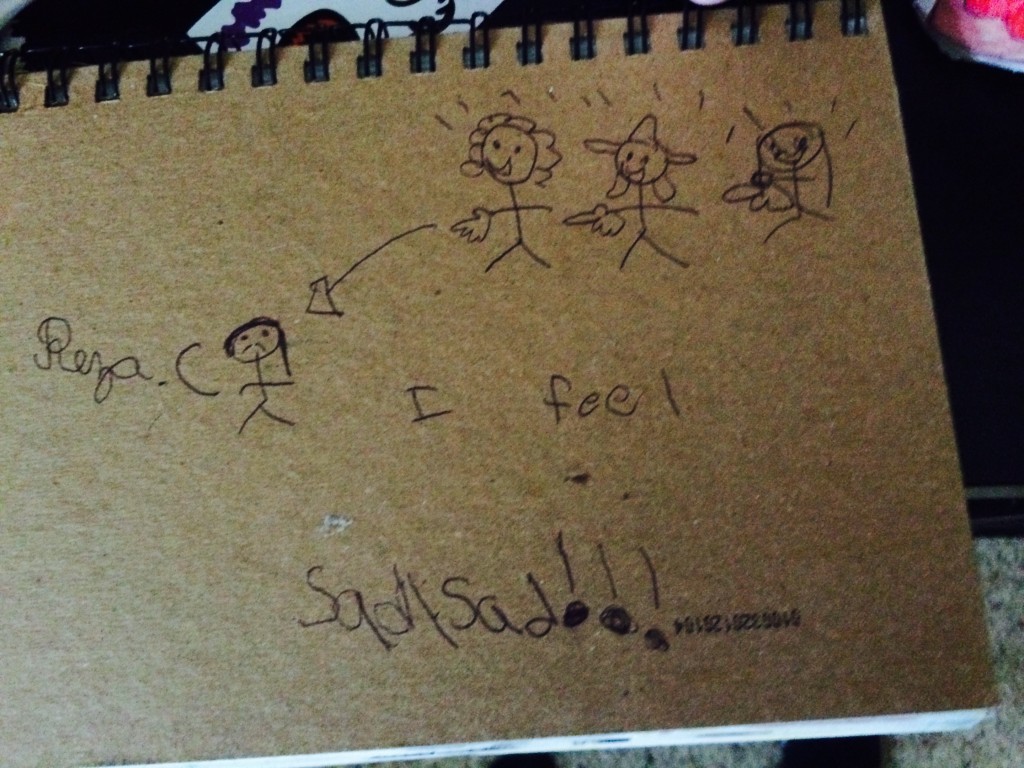 Try finding that amongst your child's things and tell me your heart wouldn't break a little. Mine did. Here's this wonderful person who just happens to be a little quirky and other kids are using that unique light against her. Assholes. It's funny because the defense mechanism kicks in and the first thing that comes to mind is, "who is this little shit so I can go open a can of whoop-ass". You too? Ha. Luckily we talk to her A LOT about always being a kind person and owning her eccentricity. She brushes stuff off but even the strongest of fortresses can have a weak spot. Trust me, I know… she is just like me.
I never asked her about the drawing because I didn't want her to feel I was snooping. We are very large proponents about giving her her space. I didn't have it and I still remember how hurt I was when my privacy was violated by my Mother, even more when I had zero reasons for her to even cross that line. But the change was so drastic that I decided it was time to ask.
She did admit some kids have said things to her. When that happens we tell her how to cope, retort and the best ways to dish it back. But she insisted that wasn't the "issue". I was met with a lot of resistance. "I don't want to talk about it" many times over. I asked all kinds of questions without being pushy but she insisted on staying mum but did say, "I would rather not tell you because I know it is going to make you mad". You can imagine the kinds of shit that went through my head. Pair that with a very heavy heart because I just knew something was wrong and all of a sudden, I can't fix it.
This is one of the hardest feelings in my life as a parent thus far. Sleepless nights, potty training, tantrums? All of that shit is trivial and pales in comparison to when you know something is wrong with your child and you feel they are beyond your help. That sense of helplessness is overwhelming, a knot in your gut that nothing will relieve. All of a sudden your Mommy Glue doesn't work on this, not this time lady.
I didn't press her. I talked to her teacher and nothing abnormal there. And then it hits me. She has asked questions about having boyfriends and we always respond with stern "not anytime soon girlie". I bet this has something to do with a particular boy. As the evening rolled on, she broke out in an allergic reaction to something and while grilling her about what she did, ate, etc. I just told her that I can't help or give her the right kind of advice if she isn't going to talk to me.
And out it came. Yes, she does get poked at in school but nothing she doesn't seem to be handling. This mood was heartbreak, a schoolgirl crush that is going unreciprocated. Shit. Look, I am not naive enough to think that my daughter isn't going to develop feelings for another boy/girl/wherever she wants to go with it. I guess I didn't expect this kind of thing so soon but nonetheless here we are. There were watery eyes as she sat in my lap and while stroking her hair I tried my best to band-aid it, telling her stories about all the times I got my heart stomped on by some boy who never even knew I existed or decided my friend was more interesting. We talked for a while about it and within minutes it was like the light came back in her eyes because she felt that safeness that comes from knowing you can tell your story without being judged, punished or humiliated.
This was a lesson for us too. We realized that by saying "no boyfriends anytime soon" and not explaining our reasonings, we pushed her into a corner where she felt she couldn't talk about it with us. The idea of that alone is a bummer because that is not how we roll as a family. But hey, this is our first time go around with this parenting business and we are bound to make mistakes, right?
I share this for two reasons…
One? Think about that drawing and how it probably made her feel. She is one of many that has felt that way at the expense and hand of another. Kindness and acceptance are lacking in this world and it will never change unless we continue to educate ourselves and those coming up under our wings.
Two? I needed to put this somewhere, if anything to continue to remind me that communication is key. Talk to your nuggets about a lot, about everything, even the scary stuff, the things we hold back to spare them from growing up too fast… cause guess what? They're going to and while you can't give them all the answers, you can certainly give them the flashlights so the path isn't so dark.