The other night I heard Josh get out of bed. I am a light sleeper thanks to the kiddo, so I hear it all. Josh gets up and makes his zombie way to the bathroom where all of a sudden I hear a thud promptly followed by what sounded like "Shitfuckgoddamit!!! ". I might be wrong about the exact words but one thing I did know, he wasn't happy. I immediately knew what it was.
I have said this before but I will re-share for posterity. I have a horrible habit of leaving doors, cabinets and drawers in their open position and no doubt that Josh, in his half asleep stupor, walked into something I left open, this time a drawer. I am glad it was his foot and not his balls. Just now I looked over to the kitchen and this was what I saw: 3 cabinet doors, the door to the laundry room and a drawer. Josh is a saint for putting up with it.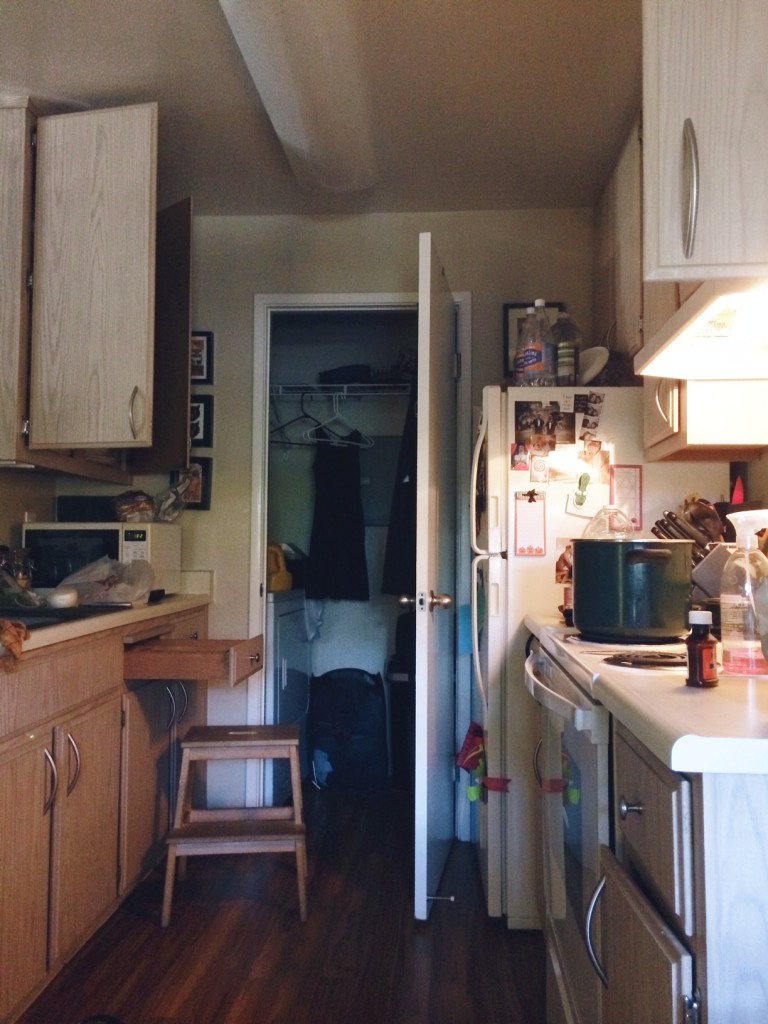 More weird tidbits about me…
If a stranger sneezes within my general vicinity, I can't help myself and spontaneously say "bless you". I am not in the business of blessing people, I am not even religious. This is something I have just instinctively said for the longest time and can't seem to break it. Most of the time people look at me like I am a complete and total weirdo.
I do not wear mascara on my lower lid and haven't since my 20's. It grosses me out and it ends up flaking and making me look like I got punched in the eye. Contacts gross me the hell out too… there are so many things I would rather do than stick slimy shit in my eye.
When I clean the house I don't focus on one room at a time. I just do little things across the house and at some point, most of it is done. I'm like that with a lot of things, a spoon in everything. It will all get finished, eventually.
Not sure where this one weird spoon came from, but there is one metal spoon that doesn't match the rest of my cutlery. It just showed up in my house. All I do know is that it is my preferred spoon for yogurt consumption and coffee stirring. Funny enough, my Dad has the same habit… he has this one spoon he loves and he has gone as far as to travel with it. I think I am not like him and then stuff like this happens.
Sometimes when I have had enough caffeine, I may send my friends videos on their birthdays of me singing "Las Mañanitas" with mariachi backtrack. That's the Mexican Happy Birthday. It always goes over well cause who can't laugh at me making a fool of myself? It helps I curl my lips in really kooky ways and gesticulate a lot when I sing and talk.
When I was a kid I wouldn't eat strawberries or anything with edible seeds because I believed that plants would grow in my stomach.
I know what a full body cast feels like: itchy as hell
I know what drowning feels like: Yes, your life flashes in front of your eyes
I had my wisdom teeth removed with only local anesthesia. I heard every rip and crunch. I don't advise anyone do this, ever. Unless you are a complete and total masochist.
I have had to learn how to walk twice.
Tequila and I do not get along and yes, it is for the very reason you are probably thinking.
I have never received a speeding ticket despite my bat out of hell ways. I have been pulled over, had warnings, got an administrative fine but nothing on my record. Can I make it to 40 without one? We shall see!
Tell me something weird, kooky or eccentric about you!