It's October 21st and the month is almost gone. GONE. Already the loot is on clearance and I am being greeted by Rudolph and his jolly, beady eyes, in the aisles of my favorite stores. In October! AKA "what bullshit".
Every year I send out a massive snail mail round of Hallow-greetings for all. The problem is I tend to do this thing where I bite off more than I can chew and half the month disappeared between Josh's Mom coming to visit, planning Reza's birthday, my getting sick, etc. My time management isn't the best and I am sure you have noticed by your empty mailboxes, that this year hasn't happened. I am sad to say that it isn't going to.
I tend to be of a very giving nature. I love to bring moments of happy where I can via notes, parcels, details toward others. In doing so I seem to have neglected the one thing that should be getting the most attention besides my family: myself.
So I am calling it on the Halloween snail mail this year in an effort to get caught up on some overdue business and give to myself for a change. Save for responding to those very few who have initiated an exchange, I will reciprocate to them of course. But otherwise I just can't do that to myself… it's a lot of time and cash that I simply do not have.
Doesn't mean I can't do small little somethings, for example:
I had a small illustration giveaway hosted on my Instagram page which coincidentally went to one of the few people who sent me a Halloweeen card this year. I couldn't be happier to see it going her way…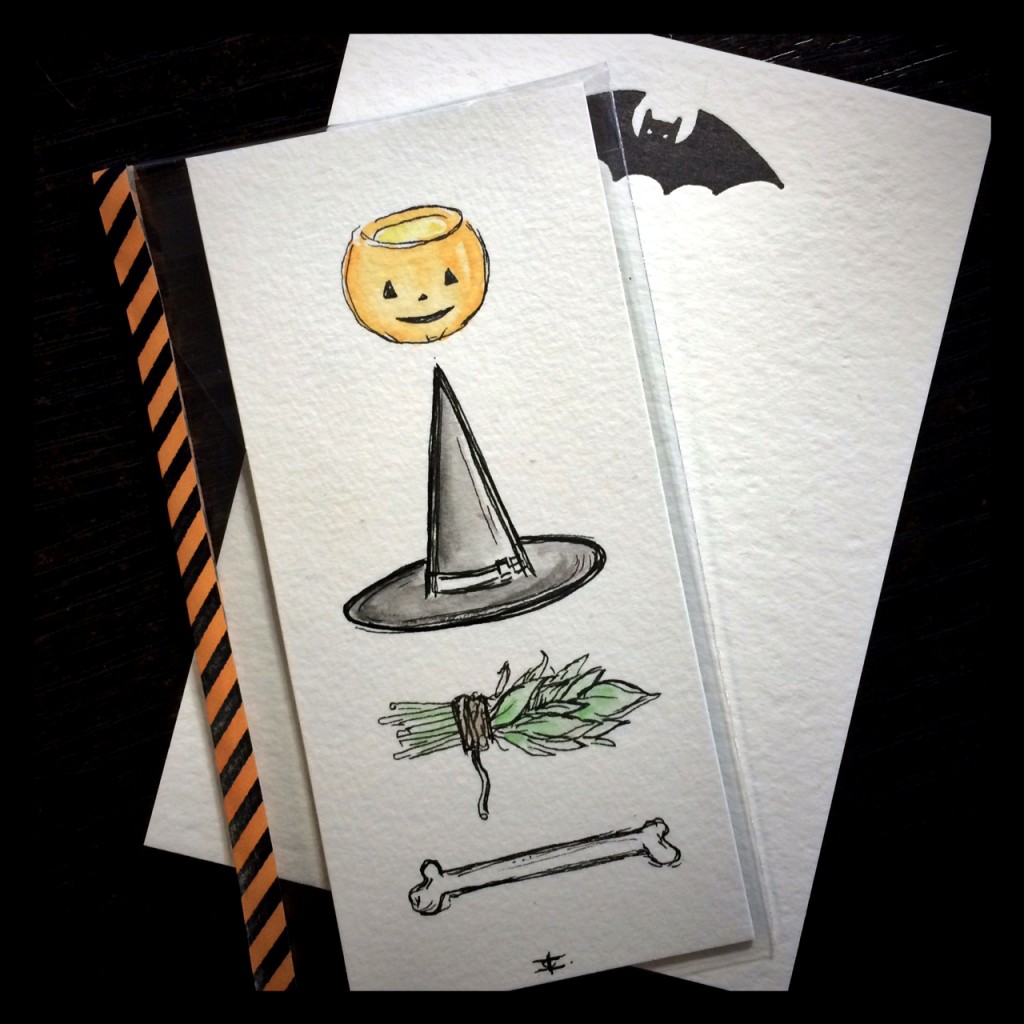 And then there's the Mystery Box which I will draw on Friday. I will still do little things here and there but they get posted where they get posted to keep it fair.
I dunno, I guess I find myself in a place where I am doing a lot of the trying/giving and in doing so I am also ignoring. I don't like the way it is making me feel. And to only compile the matter I am desperately trying to find the well to saturate the creative draught that I seem to be in. All these plans/ideas in my head and I just cannot seem to bring myself to execution. If I do execute, it feels sub-par and just scratch it altogether. Don't let my instagram feed or blog fool you. The creative part has been few and far between.
I would say "it's not you, it's me" but that is a lie. It's both of us. Connections flounder without reciprocation and I can't be the one who does it all. I think I can but ultimately, I too have days of bad, vulnerability and question. I spend a lot of time cultivating my friendships and lately I have been doing a lot of it whether it be calls, emails, texts. Not this bantering on Facebook threads bullshit either. As real as I can get considering most of my favorite peeps don't live anywhere in my proximity.
Shit, this ended up being a little deeper than I wanted to dig but hey, you know I am not one to hold back when the opportunity presents itself.
So yeah, no Hallow-mail this year. Sorry but I am not sorry. I have some work to do.