A couple weeks ago I got an e-mail from the community manager of a specific website. They were asking bloggers to write a post about what I would include in a "holiday survival kit".  I won't share the name because I am not in the business of plugging sites who want blogger content in exchange for nothing, exposure don't pay the bills holmes. Sorry! (not really)
But it got me thinking about "things" to help get through the holidays with a bit of sanity. Don't get me wrong, I have shared stuff I love before but I do it under the guise of things I actually have and use. Yes, like a lot of bloggers I could sit here and include a bunch of photos of "things" and tell you why I think they're "essentials". But I am not going to.
So instead of making up a bullshit list of things you need to go out and buy to "make your holidays less stressful", I am going to share things I/we could do and doesn't really involve shopping. Shit, most of this free… and you all know how much we love the word "free". So without further ado, I bring you…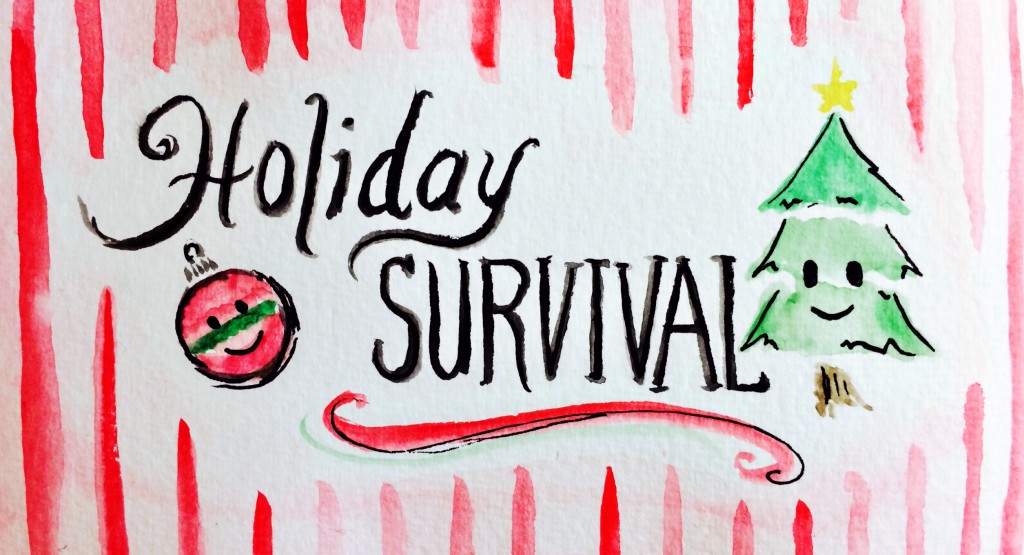 STOP SPREADING YOURSELF SO THIN. 
It needs to be said. The holidays bring on all kinds of pressures. Pressure to be there for family, pressure to deliver. The thing is, some of these pressures are totally self imposed. We pull a Bilbo Baggins that feels "thin, sort of stretched, like butter scraped over too much bread". You end up spending the holidays bouncing from place to place, sometimes in horrendous traffic and next thing you know it's January and you are just relieved it is over. The month flew by and you didn't even enjoy it. So cut it out! There is only one of you and your time is just as important.
DON'T PUT YOURSELF IN DEBT
This goes on par with the pressures. The need to deliver xmas becomes this prevalent feeling, so much so that all you're doing is stressing about how it's going to happen. There's pressure that you have to buy people things… sometimes people you don't even want to give gifts to but feel like you have to! So many people overextend themselves monetarily, maxing out credit cards or spending money that sometimes they don't even have to spend. I know it's tough, especially for those with kids who have no concept of monetary value or struggles. But look at it this way when giving gifts, balance out what is a "want vs need". It's just stuff. If there is one thing 2 cross country moves have taught me, is that we amass so much bullshit and clutter in our lives. Things are just things and in the grand scheme of life, those things don't make your happiness. If you're going to gift, give the gift of rewarding experiences with those you love. That lasts so much longer.
SHOP ONLINE
I'm not saying you need to pull and Ebenezer either. If you really want to give gifts, have at it! I know it can be really fun to surprise friend X with the rare book they've salivated over. When you have a very clear intent on what you want to buy and it's readily available to your fingertips, just do it online. It saves you so much hassle, stress and fighting with assholes for a parking spot at the mall.  We did a lot of that last year and it was sweet! Just make sure you do it with a timely manner so things arrive in time.
MUSIC
We all have it, have access to it, own it, stream it. You don't know how many homes I have visited of friends and family and they never bump tunes. I don't get how they do it because the right song, at the right moment, makes memories. Use it! It can change your entire outlook on the day. It is as essential to me as water. Play it in your house, play it loud. +1 point if it's a total guilty pleasure and you shake your ass to it while doing your household chores. +10 points if that shit is done in your underwear.
LEARN TO SAY NO
There are so many people who "hate the holidays" and a lot of it is because you feel the pressure of having to spend it with or around family you may not even get along with. It's ok to say no to things and don't feel bad about it! No one is going to advocate for your sanity more than you. If not going to Aunt Horrible Cooking and Creepy Drunk Uncle so-and-so's house in bum fuck is going to make you feel more chill, politely decline. Yes, there will be disappointments expressed but those who love you will get it if you just can't. There is a fine art to learning how to say "no" to people and the sooner you master that skill, the happier you will be. .
IT'S NOT WHO YOU SPEND IT WITH, IT'S HOW YOU SPEND IT
I know a lot of people who dread the holidays because they have horrible or sad memories attached to them. I get that so much, especially when you've lost someone meaningful in your life. It can be daunting especially when we're fed visuals of happy, perfect families sitting around in their matching pajamas by the fire. We feel alone, like we are missing something bigger. Family is a part of it but remember your family is who you make of it. Fall back on your friends, your pets, etc. Go out and do things that fulfill you: a hike, movies, travel etc. If you happen to have awesome company, well good for you! But if you have no one, it's ok too. It really is. Give to yourself.
I know a lot of these things are easier said than done. Trust. I get it. Xmas is what you make it and we all have that power… and it doesn't involve door busting at 6 a.m. for a deal on a TV.