I understand it has been a great while since I have come to this space to drop some wisdom and fluff at you. What can I say? Life has been BUSY and not in that "I'm busy while sitting on my couch watching Netflix and double tapping my cell phone screen" kind of way.
Artwork making has been in full on overdrive and if you follow me on Facebook or Instagram you may have seen just how much I have been churning out. It has been FANTASTIC.
I recently was asked to create some more label work for my favorite perfume oil magic makers, Black Phoenix Alchemy Lab. This collection hasn't been released yet but I can say the work came out DOPE. I cannot wait to share it with you when the time is close.
The one thing I can spill all kinds of beans on is that I was lucky enough to test drive a few of their highly anticipated and soon to be dropped collection inspired by Guillermo Del Toro's gothic masterpiece, Crimson Peak. Yes, *that* Crimson Peak. mmmm Tom Hiddleston in Victorian clothing. I KNOW.
My press pack arrived a few days after having seen the film and the timing was perfect because I was able to make all kinds of associations to the characters, plot, etc. The movie itself is visual, gothic perfection and paired with fragrance it's a perfect marriage of the senses.
The perfume line has 30 individual scents. Yes, thirty. Prepare your wallets for some damage because the lab has really outdone themselves with this line and I only got to smell/test 7 of 30.
I will preface by saying that I am not a professional nose and I hate florals. I am one of those people who would rather smell like food, sugar, booze and a brothel of eras past. That said, I am so very pleased to share some insight to help you in your wallet denting ways.
[ If you haven't seen the movie heed with caution as to some of these descriptions *may* be spoilers and I don't need to hear from the "you spoiled it" police. There, you have been disclaimed. 🙂 ]
On to the crack!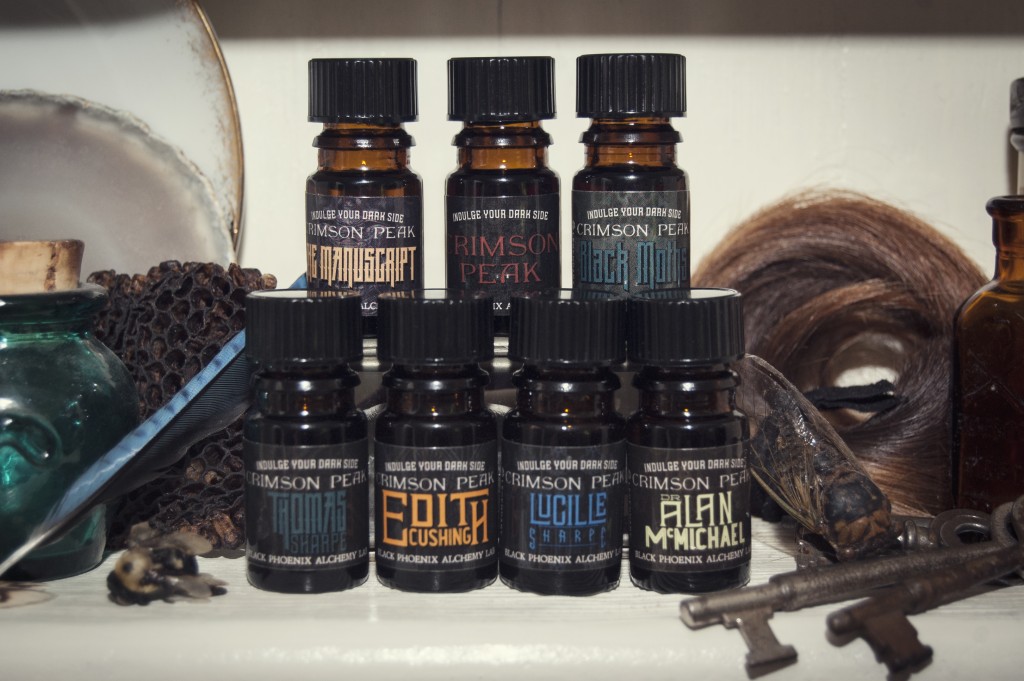 CRIMSON PEAK [EPONYMOUS]
A house that breathes, that bleeds, and remembers. 
A house like this, in time can become a living thing with timber for bones and windows for eyes: snow marbled with blood-red clay, frozen over the scent of decayed wood.
This one was a bit of a surprise for me. In the bottle it smells icy, cold, with a woody undertone. Over the course of application it felt red and the wood amped. It's really a tough one to describe but all I do know that out of the 7 I tried, it made my top 3 and for a picky bitch like me? That says something.
THE MANUSCRIPT
A ghost story – Your father didn't tell me it was a ghost story…
It's not, Sir, it's – more like a story… with a ghost in it. 
A leather bound manuscript, ink barely dry. A Gothic ghost tale, personified. The pages are permeated with a preternatural, otherworldly quality – but only slightly, as the ghost is the counterpoint; leather and paper and splotches of ink with a hint of ghostly chill. 
This smells exactly like the description. Aged parchment, soft leather… more like suede and tap of ink. I normally don't care for smelling like old books unless there is an accompanying sugary/boozy note that I like and this one just works. On the skin, the paper note dropped and it just melded nicely with me. I foresee some BPAL fans will like this one quite a bit.
BLACK MOTHS
Back home we only have black moths. Formidable creatures. They thrive on the dark and cold.
What do they feed on?
Butterflies, I'm afraid. 
A flutter in the darkness: wild plum and blackcurrant with aged patchouli, vetiver, red rose petal, tonka absolute and opoponax. 
This one. THIS ONE. I fully predict this will be one of the top sellers in the entire collection. I am lucky to have had a chance to try this one because based the description I would probably have never picked it up. Florals scare me but the rose in this is not very prominent or noticeable. It starts out smoky patchouli with a light, sweet back end, but this one morphs quite a bit with wear and for me she ended in plum. It's evokes dark velvet, plushness, mystery and shade. One of my top 3.
SIR THOMAS SHARPE
Give in to temptation: black amber darkens a pale fougere.
I really wanted to love this one cause I am total Hiddlestoner and sure enough, I did. Call it the power of suggestion or just good BPAl magic. In the bottle it's a light musk, it smells almost soapy. Surprising for Thomas but ok. On the skin the fouogere really began to amp and it smelled clean and herbaceous. Imagine laying in bed while watching a freshly showered man, towel wrapped around his waistline, lathering his face and shaving with a straight razor, steam rising from the sink. That is what this scent evokes. It's masculine with a surprising feminine quality to it. It lasted a long time on me and melded to well into my personal chemistry. A scent I constantly revisited by wrist sniffing only to fall in love with him all over again. The last of my top 3 and my favorite of the 7.
LADY LUCILLE SHARPE
Love makes monsters of us all; faded red roses and a glimmer of garnet with black lily, yang slang, smoky plum musk and black amber. 
This is where I go south. Waaaaaay too floral for me. Lily is a death note for me and has potential to be a one way ticket to Headache Town. I didn't care for this one at all, but to play devils advocate, I did share with a long time BPAL collector who loves florals and she loved it. So take my flower hating opinion with a grain here. Lady Lucille is all you floral lovers, you can have her. She's a babe.
EDITH CUSHING
Love looks not with the eyes, but with the mind: pearlescent vanilla musk with white sandalwood, grey amber, whit patchouli, ambrette seed and oudh. 
This one is pure and virginal. A white nightgown on your wedding night, innocent and airy. It went powdery on me. Powdery in that delicious, top of a newborn baby's head smell kind of way. There really is no getting around that because that is what it smelled like to me and a friend. Once we smelled it, we could not unsmell. I don't mind the powdery but I can see why some may. Still torn on whether to love her or leave her. But she sure is pretty.
DR. ALAN McMICHAEL
My deeper concern has always been for you. If you are happy, I am happy. 
Bay rum and sandalwood. 
This is super true to the notes. More bay rum than sandalwood. On wear I amped a spicy undertone in the bay rum. I like this one and it smelled even better on my dude. It was long lasting on him, like, all day wear long lasting.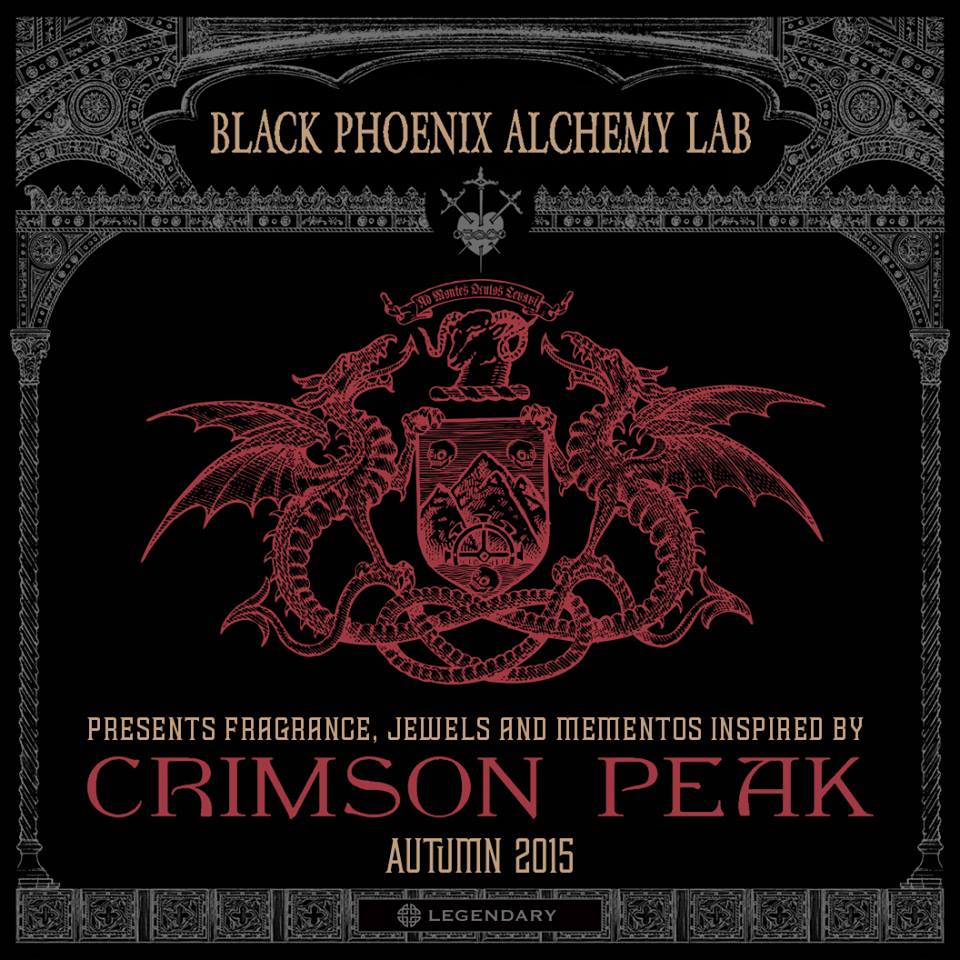 Black Phoenix Alchemy Lab really knocked this one out of the park, truly. You can feel the love behind this line, a masterwork collection of scent. I almost want to go back to see the movie with bottles in tow just to sniff during their respective scenes to make it that much more magical. And hey, Tom Hiddleston's ass. Look, I am only saying what we are all thinking. *wink*
The collection inspired  by Legendary/Guillermo Del Toro's Crimson Peak goes live on Black Phoenix Alchemy Lab's website on October 31st, 2015.