It is no news when I tell you I am a total product junkie. In this edition I share with you some of my latest discoveries, goodies that float my boat and a couple classics I cannot seem to stray from. It seems only appropriate that these go well with Fall.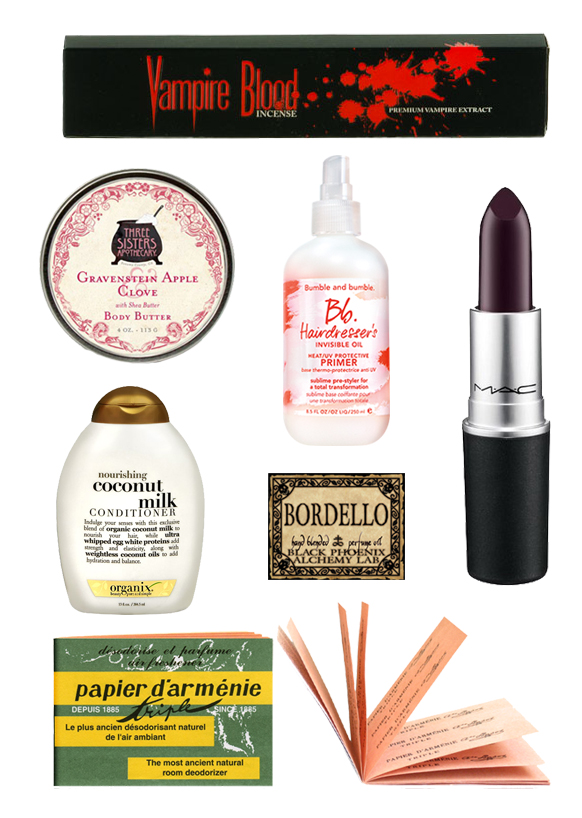 Vampire Blood Incense – Don't let the cheese ball name and packaging deter you. After Nag Champa, this is hands down my most favorite incense ever. I stumbled upon it at a shop in NJ and as I mocked it, the hippie dude behind the counter gave me the "oh don't you rip" look and lit one in the store. Instantaneous love. | available on eBay or Amazon.
Three Sisters Apothecary Body Butter in Gravenstein Apple and Clove – Local to Sonoma County, I discovered them at the local Whole Foods. The body butter is super rich and this particular fragrance has a lovely clove back end. Rest assured you will smell like Fall. They have several other fragrances and while it isn't my thing, apparently the black licorice and vanilla scent is just as amazing. I use it after my pre-bedtime shower and wake up baby soft. $9.50 a tub |  http://www.soapcauldron.com
Bumble & Bumble Hairdresser's Invisible Oil Heat/UV Protective Primer – This spray is a godsend for hair like mine that is thick, color treated, dry and requires heat styling. It softens, detangles, de-frizzes and protects from heat abuse. I flat iron A LOT now that my hair is short and this eliminates having to put so much crap in it. I put it in after I wash, dry, iron it and I barely require any styling product after. Pricey and well worth the cash. $26 | available in salons
MAC Lipstick in "Dark Side" –  Now that my hair is darker I needed to switch up my color palette a tap. This color goes on lighter than it looks but when lined or mixed with black, you get a nice, vampy, burgundy wine color. $16 | at your local MAC counter or department store.
 OGX Coconut Milk Conditioner – I tried the sulfate free lines for a while and they just weren't cutting the mustard for my hair texture. I really love coconut fragrance anything so I picked this up as a travel size when I went to San Diego. I loved it so much I have been using it since and you cannot beat the price – $5-6  | most drug stores, Target or Ulta.
Black Phoenix Alchemy Lab Fragrance Oil in "Bordello"- This has been my #1 favorite from BPAL for the past decade and I always keep coming back to it. The name is perfectly suited for this fragrance oil made with Bawdy plum, amaretto, burgundy wine and black currant. Totally smells like a sticky, sweet whore house. I have one bottle from 10 years ago and it ages even better. If this isn't your thing, you should definitely check them out… right now they have limited edition Halloween batches and they never stay in stock very long. Can you blame them with names like Autumn Cider and Pumpkin Spice Everything? $17.50 | www.blackphoenixalchemylab.com
Papier D'arménie Incense Booklet  – This paper incense is a super best kept secret. Each booklet contains about 36 strips of paper incense. You light it and it cleans out the funk in the air. I can't explain the scent but it is super amazing, isn't overbearing. The beauty is you can carry it in your bag should you find yourself in situations that need some air cleaning. You will need to use your Google-Fu to find it since I am seeing all kinds of crazy prices for this one. Ebay looks like it has the best deal.
What are some of your favorites? I would love to hear all about them!