"Mija! Ya apaga esos greñudos!" (translation: "shut off those long hairs!". It comes as no surprise when I say that I love rock bands, especially the ones that surfaced in the 80's glam scene. I love me my hair bands and yes, I have no shame in admitting I still do. It drives Josh insane.
It all started when I was a wee chitlin of my teen years, living in Mexico and the only exposure to good music came from cable tv or from the other school weirdos. Back in the day, you know, when MTV actually played music videos, my sister and I became heavily exposed to the massive rock scene surging in the states. I remember there was one music store in Mazatlan that sold imports and I clearly recall spending my allowance on Bon Jovi's "Slippery When Wet". Little did I know that album was going to be the gateway drug that would eventually lead me to countless other bundles of awesome… Mötley Crüe, Skid Row, Poison and Def Leppard, etc.
About a month ago we saw the Rock of Ages tour was booked at Revel: Lita Ford, Poison and Def Leppard. A trifecta of butt rock awesomeness is what that is.
Because tickets were a little steep and Josh does not believe in taking advantage of his employment there, we didn't get tickets.
Enter Ana. She and Josh were friends before he and I even met and despite the fact we have lived in different places for quite some time, we have maintained a connection with her over the years. She is "that chick", she eats, lives and breathes rock. Total embodiment. It just so happens that Ana is working crew with Poison for this tour. Not surprised.
I contacted her in an effort to see her since we live close and thought it would be cool to see her for lunch. I really try to see any of our friends that come near our hood. She was super busy with the band and really wasn't going to have time to see us. Bummer! But then she said she could possibly guest list us for the show. All three of us.
5 pm rolled around and the text came. In like Flynn! So we hussied up, got in the car and hauled to Atlantic City stat! Yes, all three of us. We were stoked!
We met Ana at will call and I get our tickets only to also find backstage passes attached. There is nothing more priceless than seeing the faces of adults as I am slapping a backstage pass on our 5 year old. Comedy gold!
Reza had no idea what to expect, first real concert going experience and all. One thing I did know is we were all stoked, myself especially. Can you blame me? I finally get to see some of my childhood heroes.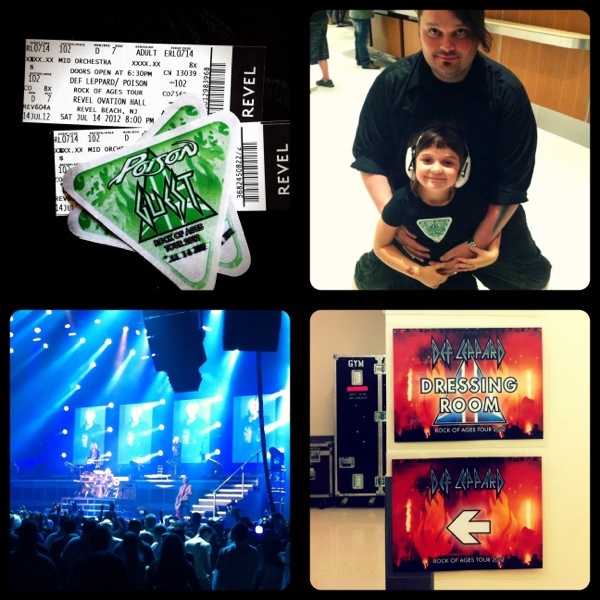 We walked in the middle of Lita Ford's set in time to hear her do "close my eyes forever" and "kiss me deadly". I gotta give her mad props. In a scene that was a complete sausage party she rolled in, held her own and owned it. She still does too! Credit where it's due.
Poison came on shortly after. Lots of energy and fun to watch! You can really
tell Bret loves what he does and appreciates the fans. Rikki (the drummer) lost his father that day and despite that, he played the show. I can't even imagine. Mad respect there.
Def Leppard came on around 10 and as you can imagine our carriage started turning into a pumpkin. They were dope, played lots of our favorites but we had to plan to leave mid set since Reza was toasting out.
I contacted Ana to see if we could see her once more before leaving. She met us at our seats and we walked out together. It turned out that C.C. (the guitarist from Poison) had his family in town along with his 5 year old son so Ana took Reza (and us) backstage to
meet him. The whole thing was fucking surreal! Here's my 5 year old in the Poison dressing room. What the hell.
Let me tell you, people love seeing little kids at shows. Maybe it was just Reza? Who knows! But she got a lot of love and high fives from strangers. It totally added to the experience. "That. Was. AWESOME!!!!" she proclaimed as we walked out the door.
It was such a fun time. A night of butt rock heaven and honestly a dream
come true.
Thank you Ana! You rule so fucking hard! <3