Unless you have been under a rock, then you don't know that we are about to get hit with Hurricane #2 since we moved here. Thanks Universe! By the looks of that map ole Sandy decided she is gonna take a fatty g-spot dildo turn smack into New Jersey. Just our luck! "Hey, these people look like they need to get hosed, right on!"
So in an effort to be a cheeseball live-blogger I am going to be posting updates about what is really going on around these parts so people don't freak out (Hi Josh's Mom!). It keeps all the annoying fb posts down as well as keeping me from repeating myself.
Sunday 9:30 am EST:
As of right now girlfriend is a category one. It's gloomy outside, looks like a regular day that is about to rain. It slowed down which isn't a good thing but we will know more later. As the day progresses the rain is going to come and the winds are expected to kick up to nasty by tomorrow morning. Josh's work and surrounding areas are pretty much on evacuation orders so Josh will not be going back to the coast till at least Wednesday morning and that could change depending on the carnage.
We are pretty much holed up in the house. Our areas of concern are power outages and downed trees cause there are A LOT of trees in our area. They're telling us that in the event of power loss it could take up to a week for restoral (WOO!). We have provisions, flashlights, water, Mexican Jesus candles… should we lose power we will be able to charge our cells in the car.
Because of Josh's position at his job he has had access to joining in on conference calls with Homeland Security about the real state of affairs. He is probably getting the newest update as we speak. Now, lets hope he leaves his phone on mute this time so these people don't have to hear about our crude, sexual, baby making jokes like yesterday. Oops!
In other news, we have tickets to the Deftones in Philly tonight and it is very possible it is going to get cancelled. If you know what a Chino Moreno groupie I am, you will know this makes me one sad bastard. In the event there is no cancellation, I don't know if we will be going cause driving while this business is looming isn't very smart. Curse you mother nature for peeing on Halloween AND Chino. I curse you!
So that's the latest. I will be updating this post as things progress and while I have ability to do so… you know, net connection and shizz.
10:30 am – Conference said that they don't expect landfall till Tuesday so this could very well go on till Wednesday. There seem to be a lot of precautionary measures being taken in regards to power, wireless, transportation as well as public safety.
2:55 pm– the venue said the Deftones show is still on but we aren't going cause we run the risk of getting stranded in Philly due to bridge closures. Plus, it's totally irresponsible of us to ask our sitter to get in her car for us. Either way, to say I am not bummed would be a lie. I wish the band would have rescheduled it 🙁
9:25 pm bored out of my mind, it's raining but nothing crazy. The school called and it will be closed Monday and Tuesday. It's supposed to rain hard in the early a.m. I have resorted to piña coladas. We shall see what happens tomorrow.
Monday 10/29
7:50 a.m. – Woke up to a light rain but it appears it will be consistent all day, well into tomorrow. Other than, everything here is chill. Let us hope for no basement leaks.
1:00 pm – Our power just went out. It comes on and off, but it hasn't returned anymore. I wasn't expecting it to go this soon in the game
1:50 pm – We reported the outage but we aren't getting our hopes up. We did what any sane people would do… We poured cocktails before the ice melts. Ain't this some shit. Oh and check this out…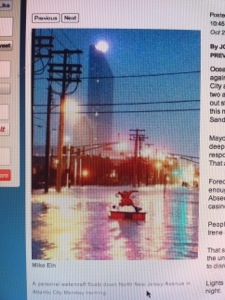 That tall building right there? Yeah, that's Josh's job. Keep in mind the eye of the storm hasn't even arrived yet.
5:00 pm – power came back around 2:30 pm thank god. We aren't counting our blessings as the worst is yet to come. The eye of the storm is going to hit Atlantic City about 6-7 pm est. I feel for them cause it is already a flooded disaster. Here in our hood it has not stopped raining since we woke up this morning…. The winds are picking up and the trees are swaying, I expect flailing in a couple hours.
9:19 pm – it appears that the worst part of it decided to take a little turn so we didn't get hit as head on as expected. The winds are absolutely crazy though. The wind sounds like crashing ocean waves outside our windows. We still have power but we aren't banking on it though. We're gonna go to bed soon and try to sleep… Not sure if it'll happen. Hopefully the worst has passed and no major incidents arise.
Tuesday 10/30
6:55 a.m. – Woke up to a very quiet morning. So quiet it's eerie…. It is going to be another gloomy day, the wind is still present but significantly milder than the craziness last night. Power is still on, no basement water… so it looks like we made it through the worst with the best possible outcome.
9:49 a.m. – Business as usual. Josh and Reza are home today. Josh has multiple conference calls today with his job as well as state/government agencies to assess what are the state of affairs at his job and Atlantic City. I am back on the morning ritual of getting caught up with the news over coffee. It just hit me like a truck and I straight up feel like vomiting. This shit was/is no joke and I am not gonna lie… I was shitting a brick. This business is so damn scary! My phone was blowing up yesterday with messages and texts from people checking in on us. It felt good to know people were worried about us.
3:40 p.m. – School is cancelled tomorrow as well. The township has rescheduled Halloween festivities to Friday, trick or treating to Saturday afternoon. It may not be "halloween" but this year October will be just a tap longer so we don't have a bunch of disappointed nuggets on our hands. I doubt Josh will be driving to AC to work tomorrow. I can't see how that's going to happen. We shall see…
Wednesday, 10/31
10:07 a.m. – No school for Reza. Josh is getting ready to head to Atlantic City as we speak. The city itself is on travel restriction but supposedly he will be allowed in cause he has his name on "the list". Honestly I wish I could go down there with him to take photos and get a lay of the land but that's pretty much a big no. Just to give you an idea… See that silver/bluish building in the left corner? That is where Josh works. The ocean/boardwalk is a block away to the left of that.

source: msnbc.com
Other than flooding, the damage was minimal to their structure… the surrounding neighborhoods? Not so much. Our favorite AC pizza joint probably suffered as it is right around there. Also, one thing you are seeing a lot of on the news is the "damaged/destroyed historical boardwalk" photos that are floating around. A) that boardwalk was OLD and B) it was set for demolition/replacing anyway. This just expedited the process a little. The media is so fucking alarmist with when it comes to these things. Yes, it's bad out there but they also keep showing lots of repeated footage. Keep that in mind.
It's Halloween today, no school and the festivities were postponed till Saturday. I am just glad the girl is gonna get *something*.
People are still checking in with us… this is the current: we have power, water, we are OK! No damages. Things are slowly beginning to normalize in our surrounding areas. Trains are back up, planes are flying overhead. The cold front arrived with this bitch and all that wind sped Fall up a little. I got a hell of a lot of yard work in my future cause there are A LOT of branches in the back, leaves everywhere. Good times.